tornado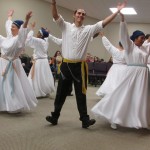 December 26, 2015 was a rather humid day in the Dallas/Fort Worth, Texas area. The Tehilla Messianic Dance Team was scheduled to go to a sweet congregation in Emory, Texas to give a presentation. The team had been there twice before for presentations and once for a dance seminar so they were looking forward to going back. It was cloudy and dreary outside and the team knew there was a possibility of rain and even severe weather – after all, this is Texas.
The dancers from the Arlington area were meeting at the Fine Arts Center at 10:15 for a departure time of 10:30. They would meet Lorri and Dawn there. Phyllis' car had been loaded up with all the necessary presentation items Friday night after Shabbat dinner. Everything was ready to go. Jaimie, Moe and Autumn were the first to arrive and Jaimie shared with Phyllis that she had a horrific headache that would not go away. Sam, Jaimie's husband prayed over Phyllis' car and the safety of the team. Gary and Millie were the next to arrive. Cre, her husband Jean Paul and their family along with Jean Pierre and Jonathan arrived as soon after. Shannon was the last to arrive. Everyone was placed in cars making sure we had a male in each car in case we had any problems and off we went. The cars did not stay together on the trip there and Jean Paul and Cre were the first to arrive at the church. Phyllis and her bunch and Gary and his group got a little lost and took the scenic way around but they made it on time.
When they arrived they discovered that the morning service had begun late so it was going to end late. This would give the dancers a chance to go to the dinning hall to get a bite to eat before we would rehearse. Everyone was starving. It was now 1 p.m. and presentation time was originally set for 2:30 p.m. We took about 20 minutes to eat (Phyllis warning us not to eat to much so we would not get sick while dancing) Phyllis ate something that had lettuce in it (she is highly allergic to lettuce), Jaimie was still not feeling well, Millie, a diabetic and one who had a major heart attack back in March was having some difficulty and then, Jean Pierre was feeling quite rough around the edges. And, you also have to be aware that Phyllis was just barely 6 weeks out of her fourth major surgery since April of this year. We all realized that this was just an attack of the enemy and were ready to see what the L-rd was going to do through all of this.
The program got started around 3:45 and it started with a beautiful presentation from the church there that Lorri choreographed to Song of Ezekiel. It was magnificent! Tehilla began it's presentation. We were in our 5th song, "On Your Walls O Jerusalem and were not quite half way through it when Lorri's husband comes up to the dance team and gives us a time-out sign. Phyllis is thinking, "Oh no! What did we do wrong?" We stopped dancing and the music stopped and Martin said, "There is a tornado heading straight toward us. There is a building not far for here with a basement and I suggest we go take shelter now." Immediately Jaimie, Phyllis and Millie turned toward the storm, raised their hands and began to pray asking Abba to calm the storm and turn it away from where we were. Moe and Gary picked up the Shofarim and began to blow and the other dancers gathered around and also began to pray. We walked toward the side of the building where the storm was suppose to be coming to and we just praying and prayed asking G-d to send the storm another way.
Finally feeling it was safe to stop praying and we turned around and the majority of the people had gone to the shelter but there was a handful still there. After we had finished praying we were told that the tornado went around us. The presentation must go on. We got back into our circle, Jean Paul started the music again and we finished the presentation. Little by little the people drifted back in from the shelter. After the presentation people told us how blessed they were that we finished the presentation even in the storm. One lady said that when we began to pray she felt the presence of G-d and she decided that she was not going to go anywhere. And the great thing about it was, everyone that had been feeling sick before, no longer had an issue. Clearly, this had been an attack from the enemy. We had a chance to minister to several of the people and some had tears and they shared their hearts with us. We never know what G-d has planned when we go out. We just must be obedient and GO!
The congregation had once again prepared a nice meal for us so we went to the dining hall and feasted. It was wonderful! As we went outside to go to the dining hall to eat we watched as another tornado started to come down out of the clouds and then it went back up. What a day!
And, as we always say, "The enemy tried to kill us, G-d WON, Let's Eat!" This is not the end of the story. Stay tuned for a very exciting part 2.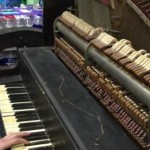 After we finished eating the Team decided it was time for us to get on our way home. We loaded up the cars and it was decided that Jean Pierre would drive Phyllis' car and Moe would ride with Gary. Gary would take the lead and we would all stay together since the weather was so bad. So, it was Gary, Phyllis's car, and last, but not least Jean Paul's car.
The trip was quite uneventful for quite awhile until we hit Rockwall. We had been watching quite a lightning show in the sky for some time. We heard the sirens going off and saw the tornado on the ground on our right and pulled in at a gas station to and take shelter. There were a few other people in there and this one man said, "Come on in and join us. We are waiting out the storm." Phyllis told him that was why we had come in as well.
Over against the wall of the store was a wonderful old piano with a bail of hay as a bench and some of the keys not working and pretty badly out of tune. However, Moe sat down and played and made it sound like a million bucks. He began playing praise music and we all gathered around and began to sing. We drowned out the sound of the constant tornado sirens oblivious that the tornado was being very destructive just right behind us.
The two men that were in the store with their families waiting out the storm came to join us as we sang. We soon found out that each of them was a pastor of a church from neighboring cities and had never met before. People from their congregations had called them and advised them to take shelter. Of course when we came in, they saw the Star of David's on our shirts and immediately decided we were Jews, but then when we began singing songs like How Great Thou Art they were not sure who we were. So we have the privilege explaining who we were and about our ministry. What a treasure and what a blessing! What a Devine appointment from G-d. Both want us to come to their church and give a praise and worship presentation and dance seminar.
We were there well over an hour and a half and just enjoyed praising G-d and chatting with our new friends. We finally decided it was time to head on in to Arlington. We tried to get on I30 but there were accidents all over the place from where the tornadoes had picked up cars and turned them over so we had to find an alternate route. So, winding around the back rounds in Rockwall at snails pace because of the traffic we all finally made it back to Tehilla at 10:00 p.m. We unloaded Phyllis' car and everyone went on their way home. Several of our prayer warriors called to see if we were alright because they heard about all the tornadoes along our route.
All I can say is that the L-rd used tornadoes to His good on this day. I never thought I would thank him for a tornado, but this is one time that I do.
May each of you that read these encounters of the Tehilla Messianic Dance Team's day of Tornadoes and blessings from G-d be truly blessed and know that Yeshua (Jesus) loves you and if you look to him, he will take care of you. We are starting a new year with new Hebrew classes, new dance classes and new worship classes. Come and join us. We will also come to your church or congregation and give a Presentation of Praise and Worship and/or and Davidic Dance Seminar.
Blessings,
Phyllis A. Williams
Tehilla Messianic Ministries
619 W. Main Street, Suite C
Arlington, Texas 76010
info@tehillaministries.org