Davidic dance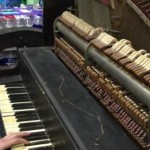 After we finished eating the Team decided it was time for us to get on our way home. We loaded up the cars and it was decided that Jean Pierre would drive Phyllis' car and Moe would ride with Gary. Gary would take the lead and we would all stay together since the weather was so bad. So, it was Gary, Phyllis's car, and last, but not least Jean Paul's car.
The trip was quite uneventful for quite awhile until we hit Rockwall. We had been watching quite a lightning show in the sky for some time. We heard the sirens going off and saw the tornado on the ground on our right and pulled in at a gas station to and take shelter. There were a few other people in there and this one man said, "Come on in and join us. We are waiting out the storm." Phyllis told him that was why we had come in as well.
Over against the wall of the store was a wonderful old piano with a bail of hay as a bench and some of the keys not working and pretty badly out of tune. However, Moe sat down and played and made it sound like a million bucks. He began playing praise music and we all gathered around and began to sing. We drowned out the sound of the constant tornado sirens oblivious that the tornado was being very destructive just right behind us.
The two men that were in the store with their families waiting out the storm came to join us as we sang. We soon found out that each of them was a pastor of a church from neighboring cities and had never met before. People from their congregations had called them and advised them to take shelter. Of course when we came in, they saw the Star of David's on our shirts and immediately decided we were Jews, but then when we began singing songs like How Great Thou Art they were not sure who we were. So we have the privilege explaining who we were and about our ministry. What a treasure and what a blessing! What a Devine appointment from G-d. Both want us to come to their church and give a praise and worship presentation and dance seminar.
We were there well over an hour and a half and just enjoyed praising G-d and chatting with our new friends. We finally decided it was time to head on in to Arlington. We tried to get on I30 but there were accidents all over the place from where the tornadoes had picked up cars and turned them over so we had to find an alternate route. So, winding around the back rounds in Rockwall at snails pace because of the traffic we all finally made it back to Tehilla at 10:00 p.m. We unloaded Phyllis' car and everyone went on their way home. Several of our prayer warriors called to see if we were alright because they heard about all the tornadoes along our route.
All I can say is that the L-rd used tornadoes to His good on this day. I never thought I would thank him for a tornado, but this is one time that I do.
May each of you that read these encounters of the Tehilla Messianic Dance Team's day of Tornadoes and blessings from G-d be truly blessed and know that Yeshua (Jesus) loves you and if you look to him, he will take care of you. We are starting a new year with new Hebrew classes, new dance classes and new worship classes. Come and join us. We will also come to your church or congregation and give a Presentation of Praise and Worship and/or and Davidic Dance Seminar.
Blessings,
Phyllis A. Williams
Tehilla Messianic Ministries
619 W. Main Street, Suite C
Arlington, Texas 76010
info@tehillaministries.org